How to Match Your Bridal Bouquet to Your Wedding Gown
Finding your dream wedding dress and selecting the bridal bouquet may sound unrelated but they are not mutually exclusive. In fact, you must try to think about your wedding gown and your wedding bouquet together. Why, you ask? The reason is that you want to make sure that the bouquet enhances and accentuates the beauty of your gown. Why bother buying the perfect gown if you are going to pair it with flowers that just dont fit in?
You can grab some inspiration from these ideas for bouquets for different types of wedding dresses: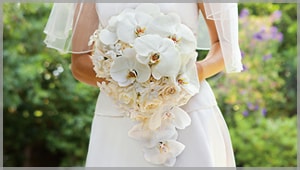 If you are going big with your gown, you need to go big with your bouquet as well. Think big blooms, because they will complement the volume of your gown in the best way. A small bouquet might get lost in the fabric of the gown.
If you are planning to walk down the isle in a detailed and intricate gown, such as one with lace or beading, it is advisable to opt for a simple bouquet. An elegant bouquet will strike the right balance against the sparkle of the gown..
Since mermaid dresses tend to have quite a bit of detailing in the flare, an asymmetrical cascading bouquet can accentuate the flare and balance out the details. The cascading blooms will help draw attention to the lower half of your gown..
Simple sheath dresses are best complemented with bouquets that are vibrant and colorful. Look for arrangements that are have an assortment of colorful flowers as well as unique shapes.
A classic gown style such as A-line calls for a classic bouquet - one that is clean and round. This is so that the focus is on the timeless design of the dress and not the bouquet. You can consider blooms of a single variety so that they don't outshine your dress.
Matching the gown and the bouquet will ensure that you end up with a tasteful and elegant bridal look that you will love. Visit our website to choose from our collection of gorgeous bridal bouquets. If you are looking forwedding centerpieces in El Paso, TX, we have them too!